TBG Shop
Jump to: Games | Accessories | T-Shirts | Books
We accept the following:

Postage discounts for bulk orders. For delivery times and other information, please see our delivery information page.
---
Games
War on Terror, the boardgame (Ed. 2)
War on Terror overview:

3 to 6 players
120+ minutes
15+ yrs
Edition 2 - Launched December 2010
Now includes "Indigenous Terrorists", "Holy Nuclear Armageddon" and "God"
Updated with tonnes of new artwork, tuned-up rules and some juicy new cards
Described as "Genius satire" by Amnesty International
But branded "criminal" by the police and "sick" by the tabloids
Resides in the permanent collections of the Imperial War Museum, the Victoria & Albert Museum, The Bodleian Library, amongst others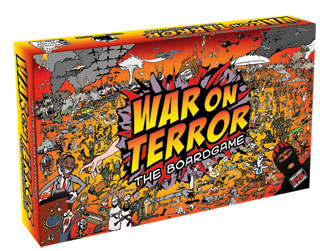 War on Terror, the boardgame (Ed. 1)
War on Terror overview:

2 to 6 players
120+ minutes
15+ yrs
LIMITED TIME OFFER: 1/3 OFF - NOW £20
Edition 1 - Sold 25,000 copies worldwide
The original bad boy that earned us death threats and fight offers from as far away as Australia but generous praise from the likes of John Pilger
Check out all the places this game has cropped up.
We only have a few hundred left!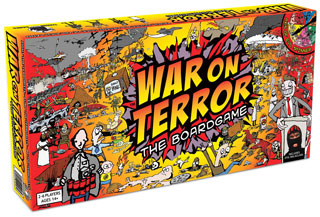 Crunch - the game for utter bankers
Crunch overview:

2 to 4 players
45+ minutes
12+ yrs
Licenced in 5 languages: French, German, Spanish, Italian and Estonian
Gameplay actually involves a functioning model of fractional reserve banking (more fun than it sounds)
Gameplay also contains the collapse of Capitalism (again, more fun than it sounds)
The New York Times compared Crunch to the birth of Monopoly in the Great Depression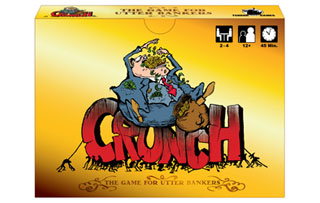 ---
Accessories
EVIL Balaclava
Lost your EVIL balaclava?
Want to start an EVIL revolutionary army?
Or simply want to force your baby / pet / loved one to wear the balaclava, take photos and then send them to your friends for a cheap laugh?
One size fits all.
Colour: Black.
"The 'Evil' balaclava has achieved cult status" - BBC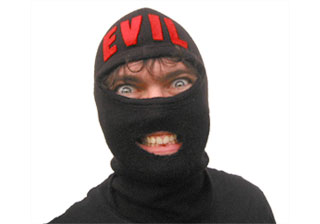 Secret Message Pad
After several thousand requests, you can now buy replacement Secret Message Pads for your copy of War on Terror, the boardgame
Useful for setting up secret alliances, backstabbing and general warmongering. Not only in the game, but in real life too!
50 leaf A5 secret message pad.
"When those in power lie, the most subversive thing you can do is tell the truth."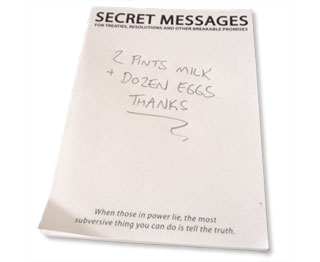 ---
T-Shirts etc.

We have a shop on CafePress that allows you to order custom t-shirts and other products using a number of our designs. They're shipped from the US and priced in dollars. This is a third-party service and so we really don't have any control over quality etc. but we own a few of these t-shirts ourselves and wear them mightily proudly.
Some of our T-Shirts over at CafePress.com

"Don't Panic" T-shirt

Inspired by the flaming TV that adorns the front of the War on Terror box, this t-shirt should instill calm and acceptence on not just the wearer, but also whomsoever glances upon it.

"Peace Process" T-shirt

There's a crucial difference between a dove of peace and a dove at peace. All too often, the former turns into the latter. What better way to celebrate the failings of peace efforts all over the world, than by proudly displaying how rubbish doves are on your chest?

"EVIL" T-shirt

Now you don't have to limit the display of your EVIL allegances to headgear only. We have an enormous array of tat and trinkets with the notorious 'EVIL' stamp. Guaranteed to get you held up at airport security.
---
Books & Inspiration

People often ask us what makes us tick, so we've just started an Amazon shop showing our best and most influential reads across a number of subject areas from "game design" to "philosophy". All these books are fantastic sources of inspiration and generally well worthwhile reading no matter what you're into. Plus every book you buy via our shop gives us valuable pennies in commission that we promise to use only for purposes of world domination.
Some of the books that have inspired us, available from Amazon.co.uk