TBG Blog
<< Newer Blog | Archive | Older Blog >>
Crunch officially launched. Banker Pinata officially dead.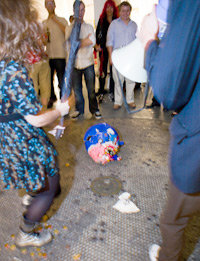 View Gallery
(18 Images)
So it took us three months to sort out the party, but finally the day had come to celebrate the upside of down and announce to the world that the Crunch is upon us, just in case they hadn't heard already.
The Foundry turned out to be a great choice of venue, we took residence in the old bank vault for the evening and soon had everything set up ready for the party. A good mix of friends, journalists, game shop owners, 'business contacts' and general rif-raf soon started to arrive and the party was in full swing with music being provided by the one and only Pedophile Stepdad.
Before long it was time for Banker Bingo and everyone seemed to enjoy the stupidity of the whole thing, searching for the strangest banking terms and numbers with earnest. Before long we had three happy winners walking away with a mixture of original artworking from the game and pre-cut sheets of Crunch cards straight from the press.
After more schmoozing and beer, and some rather bad-ass break dancing with the aid of the gold bullion turn-table, it was Banker Pinata time, always the highlight of any party. Unfortunatly the banker was just to fat and stuffed with gold to last, the first crazy to attack it had it on the floor and beat the living shit out of the poor thing. Obviously some seriously pent up 'banking rage'.
Just as the frenzy over the chocolate gold had died down the party was over a little too soon. Time for a victory cigar and a brandy and the TerrorBull Trio headed back to the condo to start planning the next party (game).
Big thanks to Stubsy for photography on the night, Rob & Andy for the sounds, Jenn for all the help, Johnathan and the gang from the Foundry and everyone else who made the night a good'un.
Posted by TerrorBull Games on 12 August 2009 - 0 comments