TBG Blog
<< Newer Blog | Archive | Older Blog >>
TerrorBull Games instore @ Borders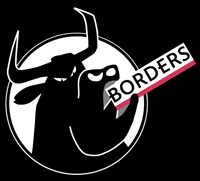 This Saturday 25th July we shall be instore at Borders, Cambridge from 11am - 6pm, demoing our new game, Crunch and throwing in some War on Terror shenanigans for good measure.
There'll be games (duh!), prizes, silly hats and guaranteed fun. Actually we don't guarantee fun - that'd be crazy. What if your idea of fun was nailing otters to trees? Then you'd be demanding your money back. And we'd be like, 'But it's a free event'. And you'd be, like, 'See you in court, suckers!'. And then we'd be like, 'Your honour, it's just an expression ...'. And the judge would be like, 'Shut it, underling, I have your guarantee here in black and white. You lose. I sentence you all to death by stabbing.' And that would be a bummer. So please, let's stop this talk of guarantees. Come with few - or better, no - expectations.
All three of us will be there to demo games, answer questions and sign whatever it is we have to sign to keep everyone happy. If you're in town, do drop by to say hello. It's nice for us to think we have friends.
Plus, we need to impress the overlords at Borders, so if you've ever considered buying one of our games and have resisted this impulse for whatever bizarre reason, now is the time to do it. Thanks! And see you on Saturday.
P.S. Stay tuned for news on the Crunch lauch party very soon ...
Posted by TerrorBull Games on 20 July 2009 - 0 comments