TBG Blog
<< Newer Blog | Archive | Older Blog >>
Kandyse McClure digs our games!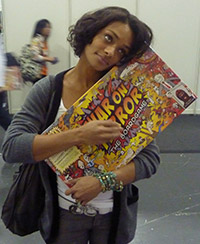 View Gallery
(20 Images)
Of course, if - like us - you don't watch the Sci Fi channel, then you won't know that Kandyse McClure is better known as Lt. Anastasia Dualla on Battlestar Galactica. For those people, all we can tell you is that Kandyse is a charming and unpretentious lady who seemed very (if you forgive the pun) down-to-earth. She also likes our games.
For everyone else, prepare to worship us like the gods we are because at the recent Movies, Comics, Media (MCM) convention in London, Kandyse stopped by our booth after an intensive bout of signing and purchased both War on Terror and Crunch. Kandyse joins a small (we prefer the term, 'elite'), but steadily-growing, list of famous-types who have rated our games: Nick Park, Graham Linehan, Colin Baker and even Chris Morris (edit: AND John Pilger!) have all reacted enthusiastically to War on Terror at one time or another. We are currently taking applications to our elite celebrity endorsement club, if any happen to be reading ...
As for the rest of the convention, it was a bit like a small-scale Lucca but with English weather and a younger average age. In fact, stepping outside the Excel convention centre at lunchtime and seeing hoards of screaming kids running around, high on caffeine and Japanese sweets, having sword fights and practising synchronised dance routines wasn't unlike stepping back in time to our old school playground. Still, they're having fun and they're not shanking anyone and if teenagers these days have to cover their faces then undoubtedly this is a far better choice than a hoodie. So good on 'em.
We're exaggerating for comic effect, of course (which only works if the effect is comic, so yeh, must try harder next time). Truth be told, the audience at MCM was about as varied as the acronym itself. After all, it's hard to think of things that don't come under the banner of either "movies", "comics" or "media".
Still, they're having fun and they're not shanking anyone We honestly loved seeing all the costumes. They ranged from staggeringly creative and effective, to downright absurd, to just kind of plain wrong (young school girls dressed up as, well, fetishised young school girls did trip the internal "Oh my god, did the police see me looking?" panic switch on more than one occasion). The fondness amongst the waaaaay too young for carrying around "Free Hugs" signs didn't help any.
We cheered when we saw something we recognised (Ronald McDonald, Winnie the Pooh, Battle of the Planets, Cheetarah and the Tardis being the complete list) and marvelled at the bizarrity of those we didn't. (Fat, old zombie man with giant, angry teddy bear friend, we're looking at you).
This all made for a very sociable and fun atmosphere, which made the convention feel less commercial than it actually was. Kudos to the kids there, because they've made it their own.
To get a better idea of the true, mind-boggling, ultra-colourful, playtime atmosphere, check out the video below (courtesy of MCM):
Posted by TerrorBull Games on 3 November 2009 - 2 comments
Comments so far:
Does this mean I can't get a second horse?Jennifer Sheerin from Cambridge - 5 November 2009
Hello. I am Zambia reporter, nice to meet you here.Spearpisa - 1 September 2010