TBG Blog
<< Newer Blog | Archive | Older Blog >>
New games! Metakettle and Ewe of the Falklands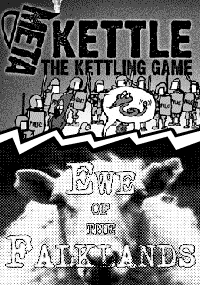 Recently we discovered an active group of friendly, independent game designers right here in Cambridge. It was quite a surprise. Like finding out there are people living in the disused tunnels of the New York subway system. Suddenly, there was this thriving subculture right under our feet.
Although these gamers are mostly computer types, we quickly learned there was plenty of common ground, so we attended one of their regular "game jam" weekends at the beginning of the month. Basically this involves shutting 40 geeks upstairs at the local cafe for four days and seeing what comes out the other end. Turns out a whole bunch of weird is what comes out the other end. Here's our offering. We actually made two games:
Metakettle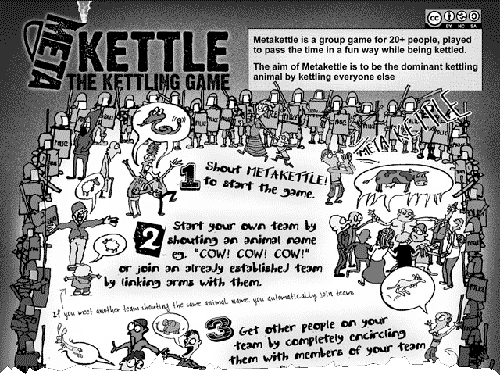 Download Metakettle here.
Metakettle is a print-and-play game about kettling to be played by any group of people while being kettled. We're hoping it will be the first in a series of 'detention games'.
Ewe of the Falklands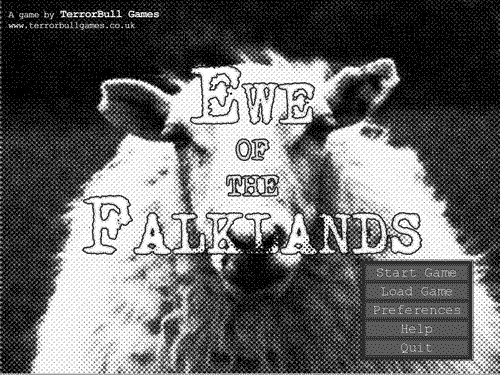 Download: Windows (12.6Mb zip), Mac (15.5Mb zip), Linux (11.3Mb tar)
Ewe of the Falklands is TerrorBull Game's FIRST EVER COMPUTER GAME! Yeeeeaaah! It's also embarrassingly shit. But please don't let that put you off. Ewe of the Falklands is a choose-your-own-adventure type game about the Falklands War from the point of view of a pacifist sheep. Rather predictably, it ended up being about the futility of war. But more than that, it is about the futility of being a sheep trying to stop that war.
Instructions: Download the zip file, extract it and double-click "Falklands.exe" to start the game. Yeh, sorry it's not a fancy play-in-your-browser game, but we have to start somewhere. And no it's not a virus, honest.
So there you have it. Our first forray into the digital world. It can only get better from here, right? By the way, the game was built with Ren'Py, a "visual novel engine" best suited to making porny-hentai fan fiction. It is very easy to use. I mean, if we can, anyone can. So if you're feeling creative (or porny), download it and give it a whirl. And be sure to tell us about your results.
You should also check out American Dream - a game that Tom leant his depraved drawings to, collaborating with the wonderfully odd Stephen Lavelle and the mightily talented Terry Cavanagh.
Posted by TerrorBull Games on 17 February 2011 - 9 comments
Comments so far:
I think this is the tipping point ... I'm going to buy stocks in TerrorBull GamesMatt from Brighton - 18 February 2011
King of Peru, Thanks Haig!Ian from Cambridge - 18 February 2011
I cannot win. I enjoyed my time as a sheep, especially eating cud.Quinlan Pfiffer from United States - 18 February 2011
Learned about Ewe of the Falklands thanks to Renpy Tom's Twitter. If you want to talk about it with other visual novel fans, then you might benefit by joining the Lemma Soft Forums. You'll find at least a few other people there who are interested in offbeat and experimental visual novels. (While there are certainly a lot of porn/harem games in English, please keep in mind that many people who are writing their own freeware games want more diverse, unique content.)gekiganwing from Chicago - 19 February 2011
Hi gekiganwing, thanks for the heads up about the Lemma Soft forums - I'll post it up there on Monday.TerrorBull Games - 19 February 2011
Hi guys and girls, this looks great but I'm at loss how to install this on Linux. Help!Ant from Luxemburg - 22 February 2011
Hey Ant. I'm afraid I can't help you directly, but this thread (http://ubuntuforums.org/showthread.php?t=1528707) contains some info, specifically: "In general, .tar.bz2 Ren'Py games do not require an install to run. Instead, all you need to do to run them is to run the gamename.sh file that's included in the package." Let us know how you get on. And I do hope it's worth the hassle :)TerrorBull Games - 23 February 2011
Metakettle - that seals it, you guys are now my Favourite People. :-D (Also, War Criminal Captcha - ingenious :-p )Chris Cisne from Londinium - 4 March 2011
Yahoo!... Hey guys! I made an article review on one of your games... http://studiomugenjohncel.wordpress.com/2011/05/02/ewe-of-the-falklands-i-dont-know-just-read-on/Mugenjohncel from Philippines - 2 May 2011