TBG Blog
<< Newer Blog | Archive | Older Blog >>
Game development blog no.5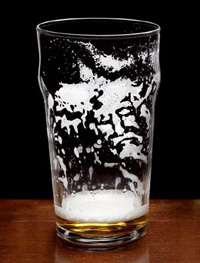 This is part of a series. You can read the previous entry here: Game development blog no.4

So what started out as a determined and candid record of development of our next large-scale game has, in fact, exposed the entirely chaotic and fractured reality of game design. I think each post has introduced at least one new game idea.
But it's not something I'm altogether unhappy with - the idea that there is ever a linear, logical process to creativity is just an illusion anyway. For some though, it is more wayward than others. So if you can forgive our constant jaunts off-piste then, without further ado, allow me to introduce the latest splinter-game ... "Drunk Prophet".
Drunk Prophet
As we keep wrestling with a rule-creation mechanic for the President in our larger project, 'Kleptocracy', we started messing with various forms of language-generators. We were looking for something that might provide a (randomly generated) framework for a law, but give the President enough wiggle room to interpret as s/he saw fit.
In the middle of an already quite involved game, this soon showed itself for what it was - lunacy. However, it did feel like it could almost support an entire game in itself, so that's what we did.
The idea of interpreting a confused and random string of words planted the scene for a religiously-themed game. Religion isn't a subject we're desperately keen to embrace to be honest - not because there's nothing to be said on religion, but it's a bit like shooting fish in a barrel. What can you say that isn't repeated ad nauseum and known perfectly well by everyone already?
However, there was something irresistibly funny about these random phrases having all the gravitas and feeling of a religious decree, but being absolutely meaningless at the same time. Make the players fight over the meaning of said random phrase and you have almost instant ingredients for some silly, faintly satirical, discussion.
But the game really only took shape recently with the title of "Drunk Prophet". This made the game itself the protagonist and the players became well-meaning but relatively helpless recipients as the Drunk Prophet spews forth. As well as vying with each other to come up with the best, unique reading of the Drunk Prophet's words, there's also an underlying spirit of we're-all-in-this-together having to deal with this crazy, drunken divinity until such a point as he passes out and we can all relax.
I am constantly reminded how framework and context - something as basic as a title sometimes, but ultimately it comes down to the narrative of the game - can radically alter how it's played and perceived.
This is such a simple party game that honestly it could almost be released tomorrow. But there are ingredients here to create something a bit more meaningful without forcing the issue. There are so many "let's laugh at funny words" party games that I don't feel there's much value in creating yet another. I still have this fantasy of using the ambiguity of the dynamically created language and feeding it back into the game - this is the step-too-far that all other language games avoid. Mainly because it's nigh-on impossible, but for now I'm still chasing that rainbow.
Posted by Andy S on 31 January 2013 - 2 comments
Comments so far:
Chase the rainbow and shit on the leprechaun!AndyT - 10 February 2013
It's been ages since an update - what are you working on??Sally - 9 April 2013