Get Your Face on the New War on Terror Money!
UPDATE: It's all over! It was tense, bids were shown, gavels were dropped - you know how it can be. Anyway, we raised £914.55 for Amnesty International! Thanks to everyone who took part. You're brilliant.

We need to raise some cash to get our next, top-secret game made. We tried asking for a government bailout. We tried Dragon's Den. So now it's onto Plan C. Luckily, Plan C is our most awesome plan: we're auctioning off the chance of getting your face - or the face of a loved one - onto the 'World Bank of Capitalism' bank notes for the new edition of War on Terror, the boardgame. Like so:

(Actual note dimensions are approx 112 x 56 mm)
And because we're such stand-up guys, we're giving half of everything we raise to Amnesty. So, by bidding, you're not just helping us out, you'll be giving a substantial chunk to one of the most essential charities out there.
Ebay.co.uk - 9 July 2010
We have SIX denominations of money and so you have six chances to win! Why not bid on them all? The auctions went live from 12pm on Friday 9th July 2010 and last a week. Here are the direct links to the 5m, 10m, 20m, 50m, 100m & 500m auction pages.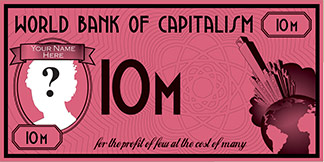 Why Would I Do a Thing Like This?
War on Terror, the board game has, in a very short time, earned a rather unique place in history. It is perhaps the only board game ever to be classified an offensive weapon by the UK police and is certainly the only board game to have graced a TV sitcom, the Berlin Academy of Arts and the Nobel Peace Center all in the same year. So, apart from being the coolest thing that you will ever do in this lifetime, just imagine the ways in which you can exploit this valuable space in the game:
THE BASIC EGO TRIP FEELS GOOD

Come one, we all want our faces on a bank note at some point. Just so you know, we're seriously going to be bidding on this. Our egos demand it.
THE BEST PROPOSAL IN THE WORLD

War on Terror has proved an unusual but popular wedding gift on a number of occasions. Why not take it a step further and hide your proposal.
IMMORTALISE A BELOVED PET

Captain Fluffy Cheeks may have passed on, but what better way to remember him than to place his image on a bank note inside a satirical board game?
PAY THE ULTIMMATE COMPLIMENT

Can't find the words to tell your dad you love him? Well nothing says 'I think you're worth a million bucks' like, erm, a 100 million note.
SCAR YOUR CHILD FOR LIFE

"Well, little Johnny, when you were born, this satirical board game was all the rage and, well, your mother and I were pretty high and ... sorry, son"
F.A.Q.
What exactly do I get if I win?
Straight away, we'll send you a soon-to-be-collectors'-item 1st edition copy of War on Terror (from our drastically dwindling stock). We'll also send you a personalised 'Certificate of Thanks'. Most importantly, you'll get your chosen image and text on every bank note of a certain denomination (depending on the auction you've won) in the new edition of War on Terror - 5,000 copies of which are being printed this summer. You'll be among the very first people to receive one, hot-off-the-presses (E.T.A. - December 2010) and that game will be signed by the designers and illustrator.
Why are there six auctions?
We have six denominations of money in the game - 5m, 10m, 20m, 50m, 100m and 500m. Each denomination has its own auction. Why don't you try and win them all?
Can I put anything on the note if I win?
We're looking for a fairly conventional portrait shot; something that is in keeping with the idea of a bank note. (So don't think this is your chance to get a CDC into the game). But within that framework, we are very open to - and encourage - creativity. Remember though, you must own, or own the rights to, the image you want printing. If you are at all unsure, please get in touch before bidding.
What do I need to supply if I win?
You will need to send us a high-resolution image and some accompanying text. Space is limited to the dimensions and shapes shown in the illustrations above (an oval roughly 27 x 33 mm), so the image should be clear and uncomplicated and the text for the "scroll" should be around 20 characters long. You must supply us with a suitable image by the end of MONDAY 19th JULY (GMT)
How many games are you printing?
We're printing 5,000 copies of the all new edition this summer. However, if we don't need to retool any components for the next print run, then subsequent runs will also contain the personalised bank notes. We printed 25,000 copies of the first edition before we retooled.
When and where will the games be available?
The new edition with the new money designs should be in the shops in time for Christmas 2010. The game is sold all over the world. We have distribution in N.America, UK, Europe and Australia and a number of independent shops on top of that. We also sell direct through our website to a large number of countries - see our shop for more information.
How can I trust you to give 50% to Amnesty?
You can't. We'd cheat our own grandmothers if we had the chance. Luckily, the donation part of the auction is all automatic and managed by Mission Fish who do this sort of thing for loads of charities, all the time. Click on the charity link above for more information.
Why Amnesty?
Amnesty is one of the most important charities out there. Human and civil rights are important to everyone, equally - and they lie at the heart of probably every subject we're likely to tackle through our games. So it makes a lot of sense for us.
What about the other 50%?
We're currently working on a brand new game that will require a number of fund-raising drives to get printed. So the other 50% is going into that pot for our top secret special project.
A Potted History of War on Terror
War on Terror is an insanely popular game that started life as an elaborate private joke. It was published in November 2006 to instant acclaim, disbelief and outrage in roughly equal measure.
The first couple of years were tough: banned from industry fairs and High St shops, slammed by the tabloid press, seized by customs, and even confiscated by the police as a 'dangerous weapon' - probably the first board game in history to be classified as such. All the while, the vast majority of people actually understood what the game was about and it developed a loyal, underground following, selling over 25,000 copies worldwide.
These days, it's a different story. The game has been featured everywhere from Forbes to Playboy, from Al-Jazeera to the BBC. It's sold by luminaries like Amnesty International and the New Internationalist and is even stocked by the Nobel Peace Center in Oslo. Respected journalists, comedy writers and others have all voiced their support and the game has found a permanent home in the collections of the Imperial War Museum, the Victoria & Albert Museum of Childhood, the Glasgow Museum of Modern Art and the esteemed Bodleian Library in Oxford.
We are now on the cusp of printing a new edition of War on Terror and thought what better way to celebrate than to give you all the chance to get your ugly mugs in the game. There really don't exist many games like this. So grab a piece of history and immortalise yourself forever!
Terms & Conditions
This stuff is really important. Please read it or your bid may be invalid. Even worse, you could delay our entire printing process.
Payment needs to be made in full no later than 48 HOURS after the auction end. Failure to do so will result in your bid being voided and the next highest bidder will be contacted. Sorry to have to be so strict on this, but we have print deadlines that simply cannot be negotiated with.
We need a suitable image as soon as possible after the auction end and no later than MONDAY 19th JULY. Failure to get us this image could have a knock-on effect, which could jeopardise everything. We can't make any exceptions, sorry. If you don't know what constitutes a 'suitable image', please contact us in advance and ask.
We will have to reject the image if it is not high enough resolution for print. Please make sure your image is at least 300dpi and large enough to fill an oval roughly 27 x 33 mm.
We may reject your image on editorial grounds. While we want to encourage creativity, we're not likely to commit self-sabotage unless it's really, really, really funny. The golden rule here is, if you're thinking of something a little odd get in touch
We may alter your image. As a minimum, we will likely have to crop, resize and isolate the subject from the background. Additionally, we will probably apply some sort of filter or blending effect to all submissions (similar to the examples on the right --->) to preserve some sort of visual continuity. Rest assured, we will not alter your image more than we have to. It could possibly happen that a particular image doesn't lend itself well to such treatment. If a submitted image becomes too distorted during the process, we will get in touch with you before committing to print.
There are no refunds or returns on this item, not least because half is being donated to Amnesty. A winning bid is binding and once we've sent the artworking off, no changes can or will be made. Please be absolutely certain that you want to bid and what image you want to use before placing a bid.
You MUST MUST MUST own the image that you submit to us, or own the rights to it. We will ask you to submit a written statement to this effect. By taking part in this auction, you assume full responsibility for all graphic and textual material that you submit to us; you confirm that you own the rights to said material and that any breach of copyright resulting from this is entirely your liability. In summary: it's safest to submit only a picture that you have taken yourself and that your subject is not having his/her/its/their/our copyright or privacy infringed. In another summary: don't be an idiot; play nice.
Occasionally there are delays that are out of our control. We're lucky, we haven't been hit by anything insurmountable yet, but considering the amount of things that can go wrong, that's pretty amazing. Anyway, the upshot is that if the production run is delayed, cancelled or otherwise disrupted due to circumstances beyond our control, we cannot be held liable. Should the unthinkable happen, we will endeavour to rectify the situation as best we can and will most likely offer the winning bidder(s) something comparable to the prizes available in this auction - most probably space in the next available print run or in the next game.
Help Spread the Word!
Of course, we want to raise as much as we can so we can get our new, top-secret game produced. But more than that, we want to send Amnesty a big, fat cheque. Since it's unlikely that there are many people browsing ebay, looking for things to put their face on, the only way we can drum up interest in this is to shout about it - and that's where you come in.
Tell your friends, your enemies, your acquaintances, those people-you-tolerate-but-don't-particularly-like, those people-you're-ambivalent-about and particularly those-people-who-you-should-really-contact-more-often-anyway-and-what-better-excuse-than-to-tell-them-of-the-war-on-terror-money-auction.
If you have a blog or you hang out on a particular forum, post a link to this page - or better still to the auction pages direct. Facebook it, tweet it, redditit, digg it, do whatever you have to, but spread the word. This is going to be fun!
Images, Photos, Etc.
Here are some images to help you out (click on them to view or right-click and 'save link as' to download). Feel free to use and print them as you see fit:
- Image of a War on Terror money note with a blank portrait space
- As above, but including the War on Terror box
- Square promo graphic with basic auction info
- Illustration of the notes in context of the game, plus a list of proven benefits
- Montage of War on Terror being loved and enjoyed BY ALL
- Montage of War on Terror press cuttings
- Press Release: "Auction for Infamy - Your Chance to go Down in History" - Download PDF (320Kb)