TBG Timeline
Tabloid Outrage, Censorship, Boycotts, Death Threats, Vegas, Police Raids, Art Galleries and Awards - the history of TerrorBull Games has been an unusual one to say the least. During the more surreal episodes, we tend to forget that we just make board games.
---
2011
January
17/01/11 War on Terror is on a university syllabus! The University of Westminster's History & Politics BA contains a core module on "Political Simulation and Gaming". War on Terror is "Week 4". Brilliant and ridiculous!TBG Blog: Academic recognition!
07/01/11 We're invited to give a short lecture at the Political Geography Research Group's workshop at Newcastle University as part of a two-day event on 'Why does political geography matter?'. You can view our resulting talk, "Are Games Changing the Political Landscape?" on Youtube.TBG Blog: TBG goes back to school
---
2010
December
15/12/10 Our first commission! Greenpeace get in touch (apparently, War on Terror is a big hit in the office!) and they're really into the idea of using games as campaign aids. We make "Deepsea Desperation" for them, a print-and-play game to support their deep-sea drilling and marine reserve campaigns. Hopefully this is the first of many.TBG Blog: A Game for Greenpeace: Deepsea Desperation
October
18/10/10 After five years, we design ourselves a new website!TBG Blog: TBG 2.0 - 5 years on and we have a new website!
11/10/10 We attend Board Game Camp, chair a pretty lively discussion about games and their ability to bring about social change and judge a "gamejam" board game design competition - with Graham LinehanTBG Blog: Board Game Camp 2010
August
30/08/10 We publish our second free "print and play" game: "Mosqopoly" in response to the frothing 'ground zero mosque' lunacy in America.TBG Blog: Print and Play: 'Mosqopoly'
July
02/07/10 We hold an auction via ebay for the chance to get your face on the new money of War on Terror edition 2. Expectations and fun are exceeded all round and we manage to raise over £900 for Amnesty too. That's our sainthood purchased, then.TBG Blog: An Auction for Infamy
June
15/06/10 We publish our first free "print and play" game. 'Operation BP: Bullshit Plug' in response to the Deepwater Horizon disaster.TBG Blog: Print-and-play: 'Operation BP: Bullshit Plug'
April
24/04/10 WoT accepted into the John Johnson collection of the Bodleian Library Oxford.TBG Blog: 'War on Terror' accepted into the Bodleian Library
January
22/01/10 Work begins in designing the next game: about cop brutality, civil rights and the erosion of democracy
16/01/10 An Anonymous supporter registers their thanks on our site: "You have turned terrorism into a theme that can be toyed with. And for the first time since my evacuation from the tube 7th July 2005, I have been able to do just that, without having it crawl under my skin. You have no idea how grateful I am. "
16/01/10 We hear on good authority that the British Secretary to the Embassy in Iraq bought a copy of War on Terror for a friend as a present. That friend is the British Ambassador.
---
2009
December
22/12/09 Borders goes bankrupt - just a couple of weeks after our local branch secretly started selling 'War on Terror' under the counter without Head Office approval. Bugger. They also owed us a decent chunk of money. Double bugger. Happy Christmas!
19/12/09 TBG's first appearance in a shopping centre. A one day trial at Lions Yard Cambridge due to fears our games could upset the elderly. We didn't upset the elderly, they felt sorry for us because it was cold.TBG Blog: TerrorBull Games infiltrates "hotbed of capitalism" and WINS!
14/12/09 We are featured in pt 2 of Games Britannia on BBC4, a three-part series on the history of games in GB. Bizarrely, we are presented as kind of saviours of the British board game industry. This is, of course, wildly inaccurate, but it has a nice ring to it, so we're not going to question the assumption too much.TBG Blog: TerrorBull Games on TV tonight
November
25/11/09 TBG visit Deutsche Bank HQ in London and sell Crunch to the bankers at lunch time. Some are quite surprised we were let in the building. TBG Blog: TerrorBull Games on Tour
11/11/09 The army chaplain of the 1st Royal Welsh in Chester gets in touch and requests 5 WoT to help the soldiers "unwind" and "relax" overseas. After some very interesting chats, he persuades us that WoT is highly suitable. It will help with numeracy and literacy apparently.
September
12/09/09 Charles Saatchi personally approves the inclusion of WoT and Crunch in the Saatchi Gallery shop. Now there's a man with vision.
July
28/07/09 Crunch Launch party in the vault of an old bank: The Foundry in London. Great success. Lots of people. Lots of silliness. No puke this time. TBG Blog: Crunch officially launched. Banker Pinata officially dead.
25/07/09 Our first instore session at Borders, Cambridge and the first time they've ever sold War on Terror. The public love it.
June
26/06/09 John Pilger speaks kindly of our game "Through the fog of an often collusive and compliant media comes this extraordinary game, achieving, with its black humour, its own truth about the pernicious 'War on Terror'."TBG Blog: John Pilger praises the War on Terror (board game)
May
22/05/09 Crunch launched in French, Spanish, Italian, German and...Estonian. Result. TBG Blog: El Cruncho ist Polyglotastic
April
01/04/09 "Crunch, the game for utter bankers" is officially released, selling 1,000 copies in 6 weeks. The reception is very favourable, and this time we're not called sick by any red tops.
February
02/02/09 Work intensifies on Crunch, a card game about the financial crisis.
January
31/01/09 Jan 31st-31st Mar - War on Terror forms part of the Embedded Art exhibition at the Berlin Academy of Arts. A trip to Berlin involves playing the game in the gallery as some kind of interactive installation. WoT is officially ART. We literally don't know what to make of it.TBG Blog: Official: War on Terror is Art
---
2008
November
17/11/08 The Nobel Peace Centre in Oslo start stocking the game saying "'War on terror' the board game brings an ordinary night with friends to new satirical heights."TBG Blog: War on Terror in Nobel Peace Center
03/11/08 We make it back from Lucca. Just about alive. Selling games in English to non-English speakers is no mean feat. TBG Blog: Lucca Comics and Games 2008
October
22/10/08 Road trip to Essen and Lucca begins. We infiltrate Essen (we are banned from having a stall after all) and get shops stocking the game by the end of the fair. TBG Blog: How to Infiltrate a Toy Fair
17/10/08 Andy S attends filming of IT Crowd and gets to meet the cast and crew. Writer/Director/Creator, Graham Linehan, even gives a personal endorsement to the audience during the show, saying War on Terror is a "fantastic game". What a lovely man.
14/10/08 We're interviewed by the BBC. They bandy the words: "at the tip of the sharp tongue of satire" TBG Blog: War on Terror at the BBC
August
19/08/08 Great Board Game Giveaway in front of Zavvi on Oxford St. 100s of people, only 104 games. Happy Mayhem. TBG Blog: THANKS, ZAVVI!
01/08/08 We learn the Kent Police have seized 3 games of WoT on a raid at climate camp, designed to capture "dangerous weapons". This news spreads rapidly over the next couple of weeks. TBG Blog: Police Seize War on Terror Games
July
17/07/08 WoT makes it into the 'top ten historical board games of 2007' in the Origins Annual Game Awards. Frank Chadwick, a games designer of high repute and standing in the games industry humbles us with a glowing review.TBG Blog: War on Terror in 'Top Ten Historical Board Games of 2007'
June
26/06/08 TBG invited to host a Class Wargames evening at the Fleapit in London. We gave a quick talk and Q&A, and played our war game with new friends, it was class.TBG Blog: TerrorBull Games Take on the Establishment (at the Flea Pit)
05/06/08 Amnesty International call WoT 'Genius Satire' and order 200 games.
May
25/05/08 We meet Naomi Klein at Housmans signing session and give her a copy of the game. She accepts it with a smile. TBG Blog: A quickie with Naomi Klein
01/05/08 WoT opens a Cafe Press shop and has one of its designs immediately censored.TBG Blog: Cafe Press Censorship
April
02/04/08 WoT played live on radio on Resonance FM. A global first.TBG Blog: World First! War on Terror Played Live on Radio
March
30/03/08 WoT officially accepted into the collection at the V&A, Museum of Childhood TBG Blog: War on Terror in the V&A, London
02/03/08 WoT officially accepted into the permanent collection of the Imperial War Museum.TBG Blog: 'War on Terrror - The boardgame' now in the Imperial War Museum London
February
13/02/08 Our first official visit to Housmans Bookshop which included a Q&A and gaming session. TBG Blog: War on Terror Game Session at Housmans Bookshop, London
January
12/01/08 WoT is cited on 3 lists: "World's most controversial boardgames" (deputy dog) "World's most inappropriate games" (Shortlist) and "Boardgames to change the world" (a just life).
09/01/08 Current TV covers WoT
---
2007
November
10/11/07 First photo from Iraq
10/11/07 WoT goes on sale for 6 hours across the UK in all 130 Zavvi stores (previously Virgin Megastores). On the 6th hour it is recalled after the MD saw it and 'kicked off'.
October
12/10/07 WoT goes on sale in the Institute for Contemporary Arts and the Political Cartoon Gallery in London. Is WoT becoming recognized as ART?
September
01/09/07 WoT officially launches in the US, selling 700 in a week
August
28/08/07 War on Terror appears in series two of the IT Crowd, sitting pretty on a shelf in the office. In episode 4 Roy and Moss play the game (using non official TV rules). The game can be seen in most episodes since, spotting it is like a game in itself.
01/08/07 New Internationalist awards War on Terror 5 stars - adding "Ironically, while teenagers can buy graphic computer games allowing them to fantasize about killing Iraqis and Afghans, this game has been lambasted in the press and banned by major retailers and game fairs."
July
24/07/07 Virgin Megastores put in order for 5,000 after a meeting with all 140 UK store managers. Here's the power point presentation we made for them.
10/07/07 We print another 5,000 games of War on Terror to keep up with demand.
May
05/05/07 We secure distribution in North America with Studio2 Publishing.
April
28/04/07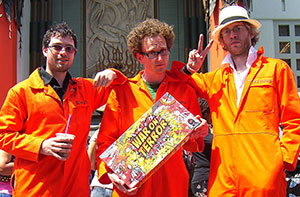 World's first War on Terror Tournament, LA
23/04/07 Our first ever industry fair - and it's in Las Vegas, the only city in the world that actually invited us. We have no money and are ill-prepared, so we end up decorating our booth with rubbish found by the side of the freeway. It turns out looking awesome and we get awarded 'best in show' by an industry magazine.
07/04/07 Playboy calls WoT 'the most thought-provoking game we've seen in years
March
07/03/07 Sold out in USA
---
2006
December
31/12/06 Since the 'outrage' story broke in September, media interest remained fairly constant, but with more considered or reflective pieces being written: Stars & Stripes, Forbes, The Guardian, Televisa Mexican, Al Araybia and others.
26/12/06 First game sold to S.America; we've now sold WoT to 31 countries in 5 continents around the world.
20/12/06 WoT gets blogged at Wired.net and Boing Boing; things go a little crazy just before Christmas.
15/12/06 First 'Evil Challenge' winner: First photo with three Evil Balaclavas in.
12/12/06 Table gets overturned in an Oxford pub by a stranger not taking kindly to a local gaming group playing WoT in public
05/12/06 Firebox.com sell out of their initial 300 games in under two weeks. WoT breaks their 'Top 50' sellers list with zero supplementary marketing support.
November
30/11/06 Protest game in Parliament Square, launching a petition to call for an enquiry into the 'War on Terror' and the WoT Launch Party at the Front Line club. TBG Blog: War on Terror Launch Party!
20/11/06 A documentary crew start following us around, with the hope of making a feature-length film about WoT.
16/11/06 First proper independent review appears - and it's a good'un!
15/11/06 Got a game into Richard Dearlove's hands who said he'd "play it soon". (he was head of the British Secret Intelligence Service (MI6) from 1999 until 6 May 2004, but don't tell anyone)TBG Blog: Ex-MI6 boss Richard Dearlove: Will play WoT with son...
12/11/06 First shipment of 1500 games arrive in the UK. 1,300 already sold via pre-orders.
10/11/06 Borders, Cambridge report they've been over-ruled by head office. An email has been sent round all Borders stores, forbidding any of them to stock WoT.
October
30/10/06 Borders, Cambridge agree to take 50 and report that lots of people have been asking about WoT
15/10/06 First game sold to the Middle East.
09/10/06 5 days before the games are due to arrive at the port in Hong Kong, TBG's shipping, storage and fulfillment partner company, Charles Gee, back out. Tim Thompson, a partner at Charles Gee, saw the headlines in The Sun and ended our contract via email.
September
30/09/06 Now banned from every major toy fair in the world - Essen, Nuremberg, New York and London. We are told also that we wouldn't be allowed to join the BTHA.
19/09/06 WoT gets covered and mostly condemned (but occasionally praised) around the world: The Sun, The Daily Mail, Metro, The Evening Standard, ABC news, BBC London, Anglia News, Radio 5 Live, Virgin Radio, The Courier Mail (Australia) (and again) are among the news sources covering the story.
18/09/06 Our local newspaper, the Cambridge Evening News, devotes its entire front page, middle page spread and the comment page to this "sick board game". They let us respond a week later.
July
11/07/06 First post announcing WoT on Board Game Geek sparks an hysteric seven page row
05/07/06 secured £33K investment and placed the order for 5,000 games
January
26/01/06 Chucked out of our first Toy FairTBG Blog: UK Toy Fair 2006 - Part One
---
2005
October
01/10/05 TerrorBull Games is born!
---
You still want more? You could take a look at our Press Coverage or if you really need to kill some time, we have a Blog that's been going since January 2005. That should keep you out of mischief.