TBG Blog
<< Newer Blog | Archive | Older Blog >>
War on Terror Launch Party!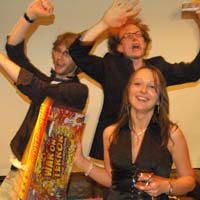 View Gallery
(20 Images)
So finally it's arrived, the day we 'officially' launch War on Terror, the boardgame... 1,343 days since we first had the idea.
We got to the Frontline Club nice and early for set-up, a great venue for the party, huge Don McCullin Vietnam war photographs on the wall, a big stack of the games in the corner, our life size cut-outs and a couple of games set-up for people to try out.
Luckily not everyone we invited turned up, as we'd sent out 300 invites for a 100 capacity venue. But the party soon picked up as friends, family, journos and 'industry people' started to show. Before long a couple of people had found some WMDs and won themselves EVIL Balaclavas, which got the festivities flowing.
The Terrorist Pinata was one tough mother and it took about seven people and three Andy T knuckles before it finally burst it's guts all over the floorMr Pete Um was doing wonders on the decks and the beer and wine was flowing nicely. After some power-mingling it was time for speeches, taking to the stage Andy S explained in some detail how this was a 'serious product', which must have worked as we sold most of our stack of games by the end of the evening. Andy T chipped in with his usual 'fuck 'em all' and 'lets have fun'.
Which was the war cry to start Terrorist Bingo! Everyone had their cards in their hands, puzzling over grainy photographs of odd looking men, women and beards. Due to our loose definition of 'terrorist' (we did try to track down an internationally agreed definition, but with no luck) people soon started complaining that it was a bit tricky. A few people shouted BINGO only to be told that they didn't know their terrorists and getting sent back empty-handed.
Just when we started to worry that we were losing the crowd, an old friend Laz comes up trumps and walks away with an original Tom Morgan-Jones illustration. Seconds later a Small Fish dude wins a framed WoT world map... Shortly followed by Justine who takes home a set of WoT, which her boyfriend illustrated, so maybe she'll get it signed.
Bingo over and everyone starts to get the fever. More dancing, drinking, dice rolling and WMD hunting ensues. It was soon time for the Terrorist Pinata... The dangerous Caroline is up first and the Pinata is down on the floor in one vicious hit. But it held strong so Andy T took his life into his hands and held it up for a succession of drunk people to swing a big stick at it.
But the Pinata was one tough mother and it took about seven people and three Andy T knuckles before it finally burst it's guts all over the floor and a crazed scramble over the sweets began.
The end of the festivities and people started to head off home with WoT under their arm, smiles on their faces and sweets in their pockets.
The end of the party and we looked around to see that we'd managed to destroy a fair chunk of the Frontline Club, it seems we're too punk for boardgames, and possibly too punk for nice venues. Hopefully nothing too permanent in the damage stakes and we would like to thank everyone at Frontline, and everyone who came along, for a great night.
Posted by TerrorBull Games on 30 November 2006 - 0 comments