TBG Blog
<< Newer Blog | Archive | Older Blog >>
Free Boardgames! (Thanks, Zavvi)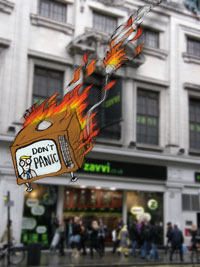 We're going to be giving away over 100 copies of War on Terror tomorrow for free. But rather than tell you how, we're going to make you read an entire blog entry first. Ha!
So: brief history lesson first. Quiet please, no fidgeting at the back. OK, back in July last year, we got very excited when Virgin Megastores decided to buy 5,000 games of War on Terror for all of their 130 stores nationwide. If that weren't awesome enough, the final decision was made after a meeting of store managers was shown this Powerpoint presentation we made. The last thing we expected was for them to come back to us and say, "Yes, please".
If Zavvi didn't pay up, we'd have to get another buyer immediately or face bankruptcy. Regular readers may remember vague, teasing comments like "we have big news ... stay tuned". Well, dammit, we should have kept our big mouths shut. If it's one thing that's certain, it's that every plan we have gets screwed. It's like a law of Nature. So we weren't overly surprised to learn that - on the very day of release - our games were recalled and pulled off the shelves, apparently because the MD of Zavvi (the chain had meanwhile changed management - and name) didn't like the look of it.
Faced with a mountain of unwanted games, Zavvi refused all further delivery and then refused to pay us. That was a bit inconvenient since we'd just borrowed a load of money in order to get 5,000 made for them. If Zavvi didn't pay up, we'd have to get another buyer immediately or face bankruptcy. Have you ever phoned up a shop and opened with "Yeh, so this other major shop are too scared to stock our game, would you like it?". We were basically laughed at; it wasn't looking good.
The next eight months were about as much fun as dealing with lawyers and fending off debt collectors can be. Eventually, though, we prevailed and things ended in our favour without having to go to court. Zavvi agreed to pay us for all the games they ordered and we got to keep the games they refused delivery of - about half of them.
So we've got a tonne of games we hadn't counted on and we thought it only right to share this rare stroke of good fortune with you. We're going to give away as many games as we can possibly fit into a car - about 100, we estimate. And what better place to do this, than in front of Zavvi's flagship store on Oxford St?
Tomorrow! Tuesday 19th August. 12.30pm - outside Zavvi on Oxford St, near Tottenham Court tube station.
This good time celebration has another purpose too, however. This is basically the only way we can get War on Terror onto the High Street - by giving it away. We want to show retailers that there's nothing scary about the game. No one's going to flip out. No one's going to run away crying. It's a good game, with an important subject matter. Why not let the public decide if it's 'unsuitable' for them?
So please come down, say 'hello' and grab a free game. And don't go ruining our special message by freaking out and running away crying, okay?
----
If you're really interested or bored, or you're a journalist, there's a full Press Release available to download. We've also written up the full Zavvi experience on our Coalition of the Unwilling page.
Posted by TerrorBull Games on 18 August 2008 - 4 comments
Comments so far:
Awesome! I shall be there! What a great idea for a game! Mark Drew from London - 18 August 2008
No way! I have a job interview at 12 in london bridge. If i come round and wash your car can I still get a free game? If you don't drive I'll swap you some origami models...?Joey from Highbury, London - 19 August 2008
Damn...That's too far :P I love the idea though. Best of luck with Your game. :)Ove from Estonia - 20 August 2008
Think you guys really need to get over this zavvi thing!!Sarah Jones from Colchester - 20 August 2008