TBG Blog
<< Newer Blog | Archive | Older Blog >>
A quickie with Naomi Klein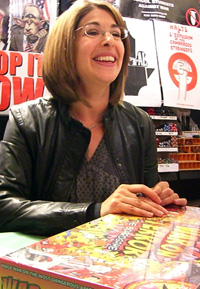 View Gallery
(8 Images)
On Tuesday, journalist and best selling author Naomi Klein made a special appearance at Housmans Booksellers in London. We went along to buy a copy of her latest book 'The Shock Doctrine' , and as the sun was out we decided to treat the lady too - so we slipped a copy of our game across the table into her welcoming hands, and she appeared to like it!
We were in a chipper and up beat mood, which was lucky, as Andy was 'surprise interviewed' by a Finnish journalist whilst queuing to see Naomi. Well, if you can't get to the main attraction because the room is too packed then why not talk to a satirical board game inventor whilst you wait? So for all the Finns reading this, the next time you pick up the 'Helsinki Journal' keep an eye out for Andy's off the cuff, clear and concise interview ramblings.
Interview over and it was time to meet Naomi who was all smiles when she was presented with a copy of War on Terror, and was amused at the possibility of being able to play it when 'on the road' - which we gather she is a lot at the moment. Perhaps we should develop that magnetic travel set version after all? An in-flight version could be pretty special. If anybody has any ideas for different formats of our game then drop us a line at the usual address. If you're not familiar with Naomi Klein's work her previous book was the hugely influential No Logo, an International best seller no less. If you fancy a taster of Naomi's new book then have a look at this 6 minute film.Thanks once more to Housmans for organising this event and to Naomi for being so friendly.
Posted by TerrorBull Games on 22 May 2008 - 0 comments