TBG Blog
<< Newer Blog | Archive | Older Blog >>
Under review ...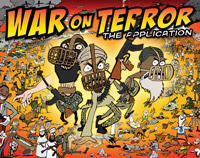 View Gallery
(3 Images)
This time last week, we held a "testing party" in advance of submitting our app of War on Terror to Apple for final review. It was a long night - we finished at 5am - and the few photos we took to mark this momentous occasion are, even we have to admit, quite underwhelming. But we made it. Done. Finished. Uploaded.
The thing is, if I could go back in time and tell 8-year-old me that in 27 years time, I'd be running a GAMES company and we'd be having a testing PARTY that didn't finish until 5 IN THE MORNING, then I'm pretty sure that 8-year-old me would absolutely spazz-out with excitement and then probably wouldn't sleep for, well, the next 27 years out of sheer, exuberant anticipation. The reality, sadly is far more prosaic. Sorry, little 8-year-old me. You know, it's time you grew up anyway. Welcome to the world.
Here's how the evening went down:
20.00 We all meet, sleep deprived but wired from working 100-hour weeks to get the app ready for tonight
20.10 Got to play this fucking game again ...*
20.30 .... and again ...
21.20 The fart noises still make everyone laugh. Surely a good sign (yes, it has fart noises; there's not much this app doesn't have)
22.30 Curry break
23.00 Long discussion about the credits screen. Should they be centred after all? And let's just try something ...
00.00 Spotted a graphics error in the war animation. MAJOR disaster
01.00 Everyone's playing the "nuke happy" version just to confirm the text in the alert box that pops up. Terrifying.
03.00 Andy S: "I should probably write a description for the app"
04.30 Click "upload". Breaths are held. It's done!

* Actually, I can honestly say we are all properly addicted to it.
The only downer is that we just got an ominous email from Apple to say that our app was going to require "additional time" to review. They didn't tell us why exactly, or how long, but this could be a bad early sign. With our history, we're not expecting too much.
But if all goes well, the app will be live on 25 November 2011!
Posted by Andy S on 10 November 2011 - 5 comments
Comments so far:
Even if they blow you out an Android version is essential.shades from dysentry on sea - 10 November 2011
I agree, shades, I think the Android marketplace is showing more promise right now anyway. We'll see what happens. All we need is about 10 sales to encourage us enough to make other versions.TerrorBull Games - 10 November 2011
Please do an Android version! Would like to point out you could circumvent the whole App store malarkey by distributing a .apk file :)Ferg from Sheffield (Jarvis Ville) - 11 November 2011
Ha ha, just stumbled across this (link from pocketgamer) and I've got to say fair play. A game of truth showing how ridiculous the world is. I'll let my kids play this for an education. Hope it gets through screening. Good luck.Ryan from Beds, uk - 14 November 2011
10 sales for the Android? You forget that we're all broke, and none of us has an Android phone. So We'll probably need to raise some funds again for the game, or loot some phone shops.david from cambridge - 15 November 2011