Crunch:

the game for utter bankers
Crunch overview:

"Fat cat bankers in a race to the bottom and a sweet retirement"
2 to 4 players
45+ minutes
12+ yrs
£8.99
Crunch is a card game for 2 to 4 players that allows you to experience the upside of down. Placed in the role of a global banking CEO, you are pitted not just against the other players, but against your own bank too.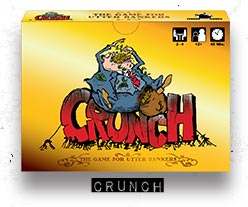 Licenced in 5 languages: French, German, Spanish, Italian and Estonian
Gameplay actually involves a functioning model of fractional reserve banking (more fun than it sounds)
Gameplay also contains the collapse of Capitalism (again, more fun than it sounds)
The New York Times compared Crunch to the birth of Monopoly in the Great Depression
Read more on www.crunchthecardgame.com
The Crunch is here! Our financial foundations are crumbling, while our nation's cherished traditions of greed, profit and exploitation are deeply threatened.
As the CEO of a global bank, it is your personal responsibility to do whatever it takes to ensure a comfortable retirement. Call in government bailouts, award yourself bonuses and - when non one's looking - embezzle as much as you can, before it all comes crashing down around you.
Crunch contains:
63 Asset/Action Cards, 34 Event Cards, 15 Trust/Government Bailout Cards and 15 Workforce Cards, 1 Rules of the Game
Some cards from the game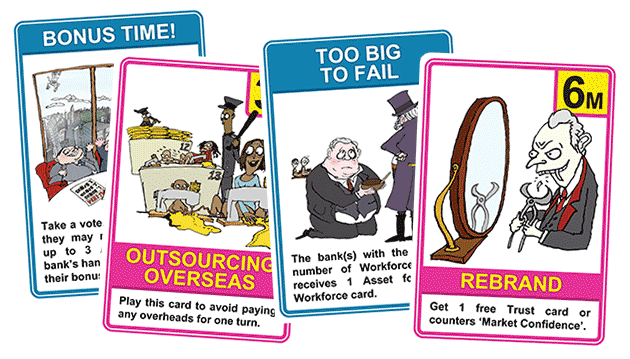 Just a small sample of the deviousness that this game demands. From left to right: Bonus Time, Outsourcing Overseas, Too Big To Fail, Rebrand.
Video
A man endowed with a most resplendent beard explains much better than we can how to play Crunch on "Board games with Scott":
What Do You Think?
---

- Crunch on BoardGameGeek

- Crunch Group on Facebook