TBG Blog
<< Newer Blog | Archive | Older Blog >>
Celebrating 3 years of bloggage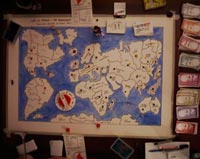 View Gallery
(20 Images)
Three years, It's true. Although our website statistics show that you ungrateful swines rarely care enough to explore it, there are now over three years' worth of blog posts in the archive. Click on the gallery to see some choice cuts from the past 36 months. What's even scarier is to think that we'd been testing War on Terror for six months prior to our very first post. It really was a beast to work on.
Still, we learn from experience, as we note over Christmas, due to the number of "how should we implement the 'WMDs take 45 minutes to launch' rule?" emails. Yes, we've learnt that you should never put a joke in the rule book.
we've learnt that you should never put a joke in the rule book We've also learnt that trying to replicate global Realpolitik in an open-ended game where rules can be made up is a recipe for prolonged testing disaster. In fact, if we knew then what we know now, War on Terror would be a very different game - probably a better game on some levels, but a worse game on many others. It's a nice reminder that occasionally ignorance is the best creative lubricant.
We're starting 2008 with big plans for TerrorBull Games. We have no fewer than 4 games at prototype-or-near stage. Simply referred to as Project N, Project FF, Project PP and Project CS, we're subjecting these games to some serious testing in the hope that one will rise above the others as a worthy contender for a follow-up to War on Terror, possibly even for release this year, but who knows?
To close this blog, here's a random gem from the interweb's highways: "Bush Was Right" by The Right Brothers. Please note: although laughter may be your natural response, this is not a parody. They mean every word - and what words. Just check out a sample of the lyrics:
As one of the comments on YouTube succinctly points out - if the Right Brothers are so convinced that Bush is right, why aren't they fighting in Iraq? What with the shortage of recruits, I'm sure that Bush would appreciate the extra canon fodder more than he would a supportive pop ditty.
Posted by TerrorBull Games on 10 January 2008 - 0 comments