TBG Blog
<< Newer Blog | Archive | Older Blog >>
War on Terror on Current TV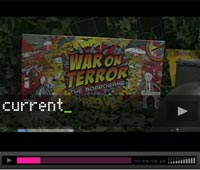 Last year we were invited to LA for the world's first War on Terror tournament. As we reported at the time, Al Gore's Current TV followed the event and the ensuing carnage, I mean, fun.
Well it took a while, but they've finally put the segment together and there are now two Current TV shorts featuring War on Terror.
The first states: "Politically themed toys are the new craze, with Axis Of Evil figurines and War On Terror, the boardgame leading the way" (It'd be nice if this were true, but sadly two things don't make a craze... yet): http://current.com/items/88808930_playthings_go_political
The second video is all about the tournament itself: http://current.com/items/88808929_war_on_terror_the_game
Overall, they've done a very nice job. I love the cut from Bill saying "it [the game] lets you learn about yourself and what you're willing to do" and then the guy with the impressive moustache-beard-combo playing the game says "All I wanna do is nuke somebody". Lovely editing.
Posted by TerrorBull Games on 15 January 2008 - 0 comments