TBG Blog
<< Newer Blog | Archive | Older Blog >>
War on Terror at the Berlin Academy of Arts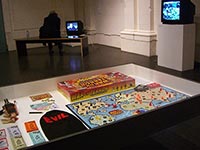 View Gallery
(18 Images)
It was always going to be an interesting day, what with a severe lack of sleep the previous two nights, Andy S on a constant and intense caffeine buzz (he'd given the stuff up for a month and had just started again with a vengeance), seeing War on Terror encased in a glass cabinet in the Berlin Academy of Arts and then playing the game at the same gallery as some kind of weird, vaguely-intentioned performance piece... That the day finally ended in a techno club the following morning in a squatted factory was all-too-predictable.
Only just slightly weirder than seeing WoT in a gallery display case, was playing a game in the galleryBut before all that, we took a tour of Berlin - taking in a nice mix of the usual and not so usual sights like Cafe Zapata. We particularly digged Kreuzberg and Friedrichshain, where Spielwiese is located - very cool districts with an exciting feel about them; lots happening.
At the end of the day at the Akademie der Künste, we were given a friendly welcome by Brigitte, the Akademie PR lady, who seemed genuinely pleased to have us at the gallery. We still had no idea what to expect at this point, but we were imagining an informal library-type room where War on Terror was one of many objects available on the shelves. As it turned out, our game was displayed in a room much like every other in the exhibition, locked inside a low, glass case. Surrounding this case were various videos, art pieces and a small library of books. To say we were intensely freaked out is an understatement.
It's very difficult to describe the various 'do not compute' thought processes that go through your mind when you see people examining your board game in a modern art gallery, but it's something along the lines of 'what-the-fuck-it's-just-a-game-and-you-can-buy-it-in-the-shops-just-10-minutes-away-and-you're-stood-there-peering-at-it-with-a-serious-look-on-your-face-like-it's-going-to-offer-up-some-kind-of-answer-but-it's-just-a-game-but-then-again-it-is-a-pretty-awesome-game-I-mean-what-other-game-is-in-a-modern-art-gallery-but-it-IS-just-a-game-this-is-too-mental-I-think-a-piece-of-brain-just-leaked-out-my-ear'.
The exhibition itself is truly great. The proper art is genuinely thought-provoking but - and all credit to the curators here - it's the presentation and lay out of the exhibition that is extremely well executed and really makes it what it is. All the art was located in the basement, with projections of the pieces being shown in the gallery space upstairs. Various cameras tracked visitors to the gallery and showed upstairs pictures downstairs and vice-versa. The effect was to immerse the visitor in a state of being constantly, inescapably scrutinised. If you get the chance, we urge you to see it - it runs until March 31st.
Only just slightly weirder than seeing WoT in a gallery display case, was playing a game in the gallery that evening as part of the "Long Night of the Museums" - an annual event that sees museums right across Berlin opening their doors late and laying on extra (often free) attractions for the public.
We were installed in the top floor of the gallery, with a bar, a DJ and a large balcony overlooking Pariser Platz and the Brandenburg Gate. 10/10 for location. Then we learnt the range of war on terror themed cocktails were free. 10/10 for hospitality. This town just keeps getting better and better.
We did a final bit of filming before the free cocktails took effect. It was still probably the silliest interview we've done, which came to a crashing end when Andy S tried his hand at explaining the game in German. They never prepare you for this stuff at school.
So a very strange game of War on Terror ensued as the room gradually filled up. Some people stood back and took pictures, others sat down with us and got involved. Lots of laughter, lots of confused faces - we think, overall, from what we can remember, it was a great success. The curators seemed happy anyway. They had over 2000 people through the gallery that evening.
Towards the end of the night, Sebastian from yesterday's game evening arrived with news of a one-off techno party at a disused factory building in East Berlin. It sounded too cool for us, but you can't go to Berlin and not go to a techno night. First, though, we got in a quick round of "the new game" before we had to ditch our comfy, privileged position as artists and face the real world again.
Several hours of 120bpm electronica and Andy S welched out at a shameful 9.00am. Andy T and Tom carried on going for another 2 hours. People were still arriving at this time. Berliners are mental.
Posted by TerrorBull Games on 31 January 2009 - 0 comments