TBG Blog
<< Newer Blog | Archive | Older Blog >>
TBG 2.0 - 5 years on and we have a new website!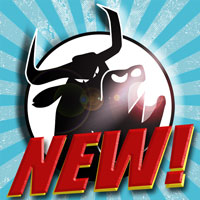 We didn't plan it this way, but exactly 5 years ago to the day, we registered TerrorBull Games as a limited company. As War on Terror progressed, we realised that we needed a website for the publishing company we just founded and quickly cobbled one together. It did the job and fooled just enough people to get our seed investment...
Fast-forward five years and we've made the awkward transition from the "war on terror" people to "terrorbull games" people. The site, however, had a lot of catching up to do. It looked as if it had been cobbled together on a broken typewriter in the Colombian jungle and as much as we loved it, our aesthetics were only shared by a handful of others. And this is the resulting facelift. WELCOME!
Look around, we have shiny new things! a Timeline, a proper FAQ, fancy looking blog URLs and a state-of-the-art, bespoke spam captcha system ("War Criminal Captcha") developed exclusively for TBG - comment on this blog to see it in action. There's also a little surprise for you if you successfully complete an order. Cunningly, you'll only get to see it if you buy something.
And double-the-excitement-double-the-fun time: we have the first new pictures of War on Terror, edition 2*. Is this a good start to the week, or what?
We'd love to hear your feedback on the site. Plus, messages of mourning and condolence for the loss of TBG 1.0 are more than welcome.
* Please Note: War on Terror edition 2 is NOT YET AVAILABLE. We don't have an exact arrival date yet but when we get Edition 2 in, we'll have both editions listed in the shop. So for now what you're buying are the remaining award-winning cool-as-you-like original edition 1s
Posted by TerrorBull Games on 18 October 2010 - 11 comments
Comments so far:
Great new site!criticismism from brighton - 18 October 2010
FIRST!Harry from the internets - 18 October 2010
War Criminal Captcha = AWESOME!Carl from Southend - 18 October 2010
I like the new site but I did like the old one also.Alan Brookland from Penzance - 19 October 2010
Brilliant site. Almost made me want to stop voting ToryTIGERWATCHER from Rottingdean - 19 October 2010
I like it! A LOTellie - 19 October 2010
Harpsichord LOLSean Penn from Nazi Hunter - 20 October 2010
The baked potato looks like a fanny.mr.dogshit from your mums fanny - 20 October 2010
Thats a neato right now, Check out my site www.spam.co.ukspam from spamtown - 20 October 2010
Spam from spamtown, that's got to be the worst spam we've ever got. So it stays, just to shame you.TerrorBull Games - 20 October 2010
I want the Golden Girls tattoo...Twitch from Northwest UK - 21 October 2010