TBG Blog
<< Newer Blog | Archive | Older Blog >>
New computer game: Pandora's Box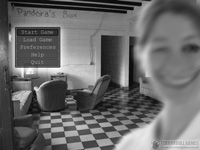 Last month, I took part in a global game jam competition called Ludum Dare. The challenge is to produce a complete game from scratch within a strict time frame, based on a secret theme announced at the start of the jam. This year, the theme was "Alone".
So those of you who know me personally will know that "strict time frame" has very little resonance and it won't surprise you at all to learn that I didn't finish my game until several weeks later. And here it is: Pandora's Box.
It's a choose-your-own text adventure, along the same kind of lines as the Ewe of the Falklands game I made last year (which was also a belated entry into another 'strict time frame' competition).
However, while Ewe of Falklands was absurd, mildly amusing and utterly flippant, Pandora's Box is dark, doom-laden and generally f'ed up to a level that even took me by surprise.
I put this down to the odd development process I followed. After drafting the game idea and basic narrative flow on paper, the first thing I actually did was compose the music and sound. I'm still not sure why, since sound is my weak point (OK, one of my many weak points), but it just felt like the sound would drive the game. And that's exactly what happened. In fact, as a special treat, if you're interested in ambient nightmarish soundscapes, I've uploaded the full 23 minute version here for you to download and enjoy. (It starts to gets really good at 12:43)
One of these days I'll actually finish a game in the allotted time. Anyway, you can read more and download the game free here.
Vote for War on Terror as Best Board Game App of 2011!
"Always end on an urgent appeal", they told me at blog school. Quite astonishingly, our War on Terror iPhone app has been shortlisted for the Best App Ever Awards 2011 ("ever" being used in its alternative meaning of "past 12 months"). The game receiving the most votes in this shortlist will win the category and possibly the overall best app category too. I think we really have a chance to bag the "Best Board Game" category as it's pretty quiet. Voting only takes a second and you don't need to submit any details, just click a button and this little action will make us disproportionately gleeful and appreciative.
Oh yes - VOTING ENDS TODAY!. Be quick! Vote here. Thank you!
P.S. If that weren't enough excitement, we've taken this opportunity to rejig our Games section and add Facebook comments to each individual game page. Go crazy.
Posted by Andy S on 25 January 2012 - 0 comments