TBG Blog
<< Newer Blog | Archive | Older Blog >>
The top 15 'War on Terror' product placement coups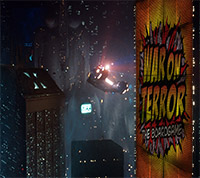 Designing board games is not very glamorous. No one wears the latest board game on the red carpet, no one cites board games as influences in cool music and/or art circles, there is pretty much zero celebrity in board games and certainly no one turns up to board game launch parties (in fact, I believe we're the only people who are foolish enough to try and attempt them). All of this is actually quite refreshing and helps keep board games an unpretentious, if still socially awkward, pursuit.
The front pages of newspapers, the front lines of wars, encased in gallery cabinets and caught up in police weapon hauls Yet, despite this, our very first effort at designing a board game has got itself into places that board games definitely should not get into - the front pages of newspapers, the front lines of wars, encased in gallery cabinets and caught up in police weapon hauls to name just a few examples.
Since this has been part of our reality from the very first days, it's never appeared that odd to us. However, there's no doubting that War on Terror has, mostly accidentally, secured the kind of product placement that many companies spend hundreds of thousands of pounds on. And seeing as it's almost five years to the day that we launched the game, it seemed a fitting tribute to gather together some of the best examples from what has been an unusually glamorous, star-studded, absurd, funny and joyous ride:
Front Page News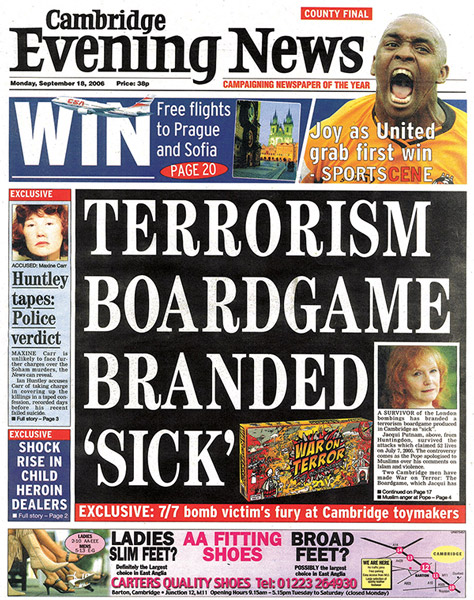 "Terrorism Boardgame Branded Sick" screamed the Cambridge Evening News in a previously undiscovered font size, appropriating our misspelling of "boardgame" to boot. The following FOUR PAGES were filled with invective and carefully commissioned outrage about a board game with cartoon graphics. And no, this wasn't the weirdest thing that's happened to us - not by a long shot.

Related link: Local Outrage at 'Terrorism Boardgame'
On the I.T. Crowd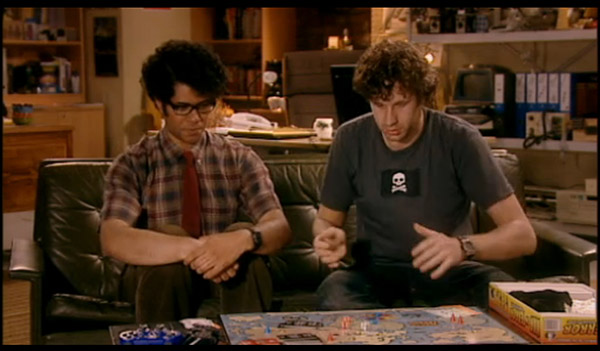 As well as being a comedy legend, Graham Linehan is a bit of a game geek and got in touch about War on Terror very early on. Thanks to this early interest, War on Terror has been a set fixture of the delightfully cave-like I.T. department in Linehan's award-winning sitcom, The I.T. Crowd, since season 2. Initially, only the eagle-eyed picked out its bright primary colours from the shelves behind Moss's desk. It wasn't until Season 2, Episode 4 ("The Dinner Party") that Moss and Roy are seen briefly playing the game and we suddenly got 50 phone calls from people excitedly telling us about what they'd just seen (three of whom were actually just complaining that Moss and Roy weren't playing the game correctly).

Related link: War on Terror Cameo on The I.T. Crowd
Exhibited in the Akademie Der Kunste, Berlin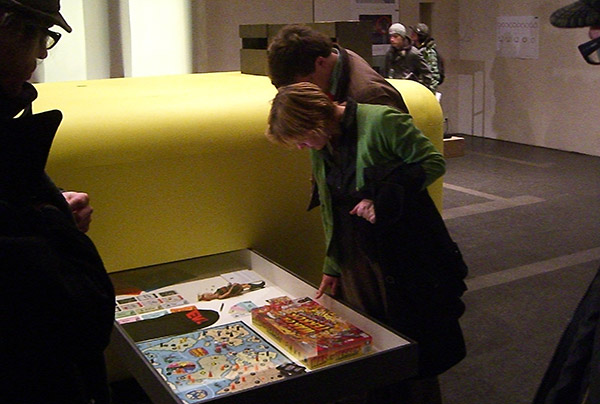 War on Terror made minor radio history when it was played live for an entire hour on Resonance FM. Some might call that a broadcasting error, but we thought it was pretty artsy. When we were subsequently asked if War on Terror could feature in an exhibit on "Embedded Art" at the prestigious Berlin Academy of Arts, it was official: games are art. It just takes someone brave enough to say so. Ironically, encasing it in glass renders it not a game, so instantly undoing our claim of "games are art". Hard to be both, if we're honest.

Related link: War on Terror at the Berlin Academy of Arts
A Dangerous Weapon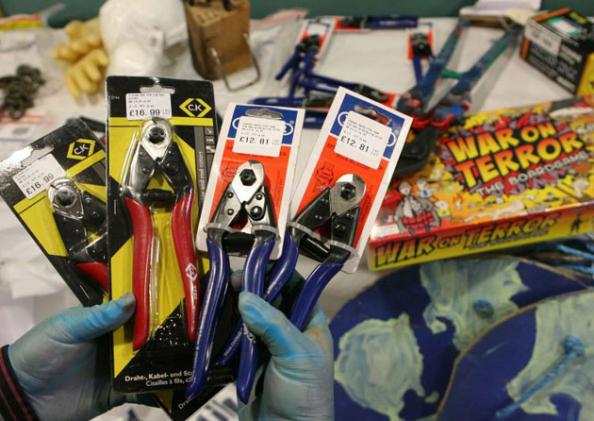 Back in 2008, War on Terror made headlines again when it became the first board game ever to be classified as an offensive weapon. Several copies were seized as part of a weapons raid on an environmental camp in Kent. Police claimed the balaclava in the game could be used to "conceal your identity if you were going to commit a criminal act". This little episode exploded all over the internet and caused our server to go into meltdown. I think we sold about 80 games in an hour. We love the police.

Related link: Police Seize War on Terror Games
Infiltrating Intelligence Circles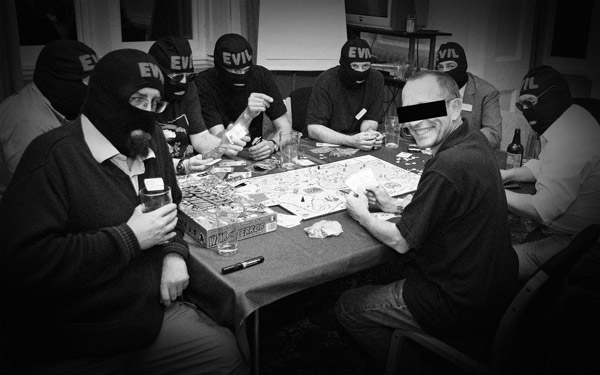 This is one of our all-time favourite photos. Not only is it a wonderfully sinister portrait of a battlefield and simulations expert playing War on Terror with an assortment of his high-ranking buddies in the Intelligence community, but it also acts as a kind of metaphor for our own positioning within the wider 'war on terror', namely: "We must be the good guys because everyone else is evil". Amazingly, we have it on very reliable information that the game has also wormed its way into the doors of the UN Counter Terrorism Directive, the Office for Security and Counter Terrorism, MI5 and a number of embassies worldwide. No wonder our security intelligence is so unreliable ...
Father-Son Bonding Activity for the Head of MI6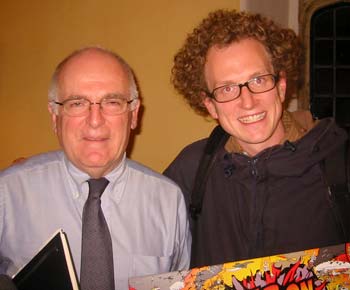 On the rare occasion we try to set up our own photo opportunity, it goes stupidly wrong. We got a tip-off that ex-head of MI6, Richard Dearlove was in town talking about the 'war on terror'. We ambushed him with our beautifully pertinent gift and asked for a nice pose and a photo. "Only if it doesn't end up on the Internet tomorrow", quipped Dearlove. So we waited a full week before publishing. Unfortunately, Ben, our photographer for the evening, had been drinking since 3pm and so the critical capture is less-than-spectacular. Anyway, Dearlove said he'd play the game with his son. Imagine if that game was the only quality father-son time they spent together?

Related link: Richard Dearlove "will play war on terror with son"
Caressed by Kandyse McClure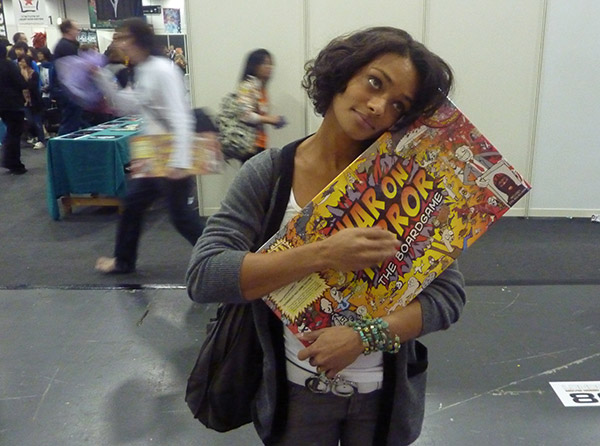 At one of the many conventions, actress Kandyse McClure was there as a special guest and after her signing session, approached our booth and sheepishly admitted she liked board games. We sheepishly admitted we didn't know who she was (that's harder to do than you think when you're speaking to someone beautiful and charming and clearly recognised by most as famous). She bought one of each of our games and seemed particularly taken by WoT. This is her enjoying a quiet moment with the box of terror. It went OK.

Related link: Kandyse McClure Digs Our Games
Studied by Naomi Klein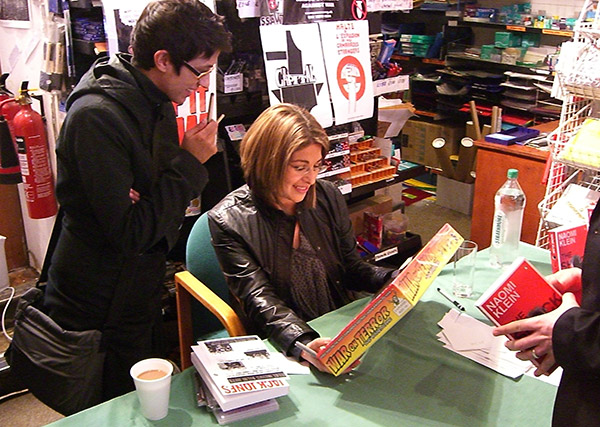 We went to Housman's Bookshop in London to meet Naomi Klein at a signing session for her new book "The Shock Doctrine". We had the bright idea to present her with a game of War on Terror. She'll enjoy this, we thought to ourselves. But of course, handing someone an oversized 2kg box who is about to spend several months on the road, dealing with baggage size and weight restrictions every few days, wasn't maybe the best idea we'd ever had. Not that Naomi didn't accept our gift graciously and with what seemed like genuine joy, but it was only later that we felt bad about the ungainly object we'd foisted upon her.

Related link: A Quickie With Naomi Klein
The Green Zone, Iraq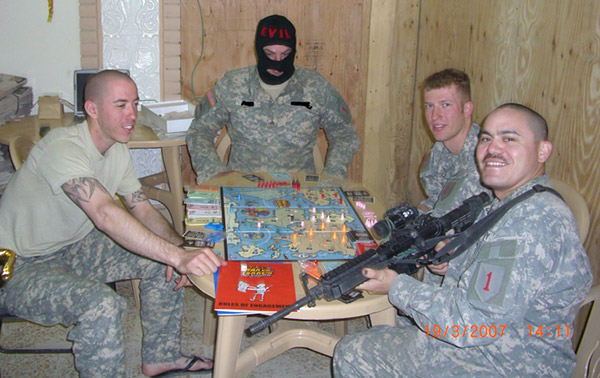 We realised long before we got the first pictures that War on Terror was proving surprisingly popular with the armed forces. It was (and still is) very conflicting to know that our game - as much a critique of violence as a means of combatting violence as anything else - is being consumed and enjoyed by the War Machine. But nothing prepared us for the brain-frying power of the photos we would later get sent of frontline soldiers kicking back with a darkly satirical boardgame to pass the time inbetween patrols. It's still weird.

Related link: Washington, Iraq and the ICA
Taking Baghdad by Storm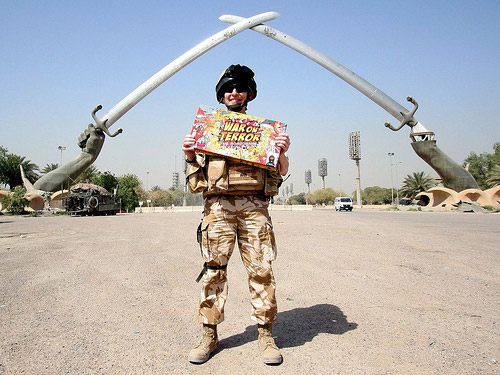 The beautiful thing about War on Terror is that it's proved to be educational in many ways - not least for us. We learnt a lot about the soldiers fighting this war; we learnt to see them better as individuals and accept they shared many of the misgivings and concerns we did. We also learnt they have a very, very cynical sense of humour.
On Tour in Afghanistan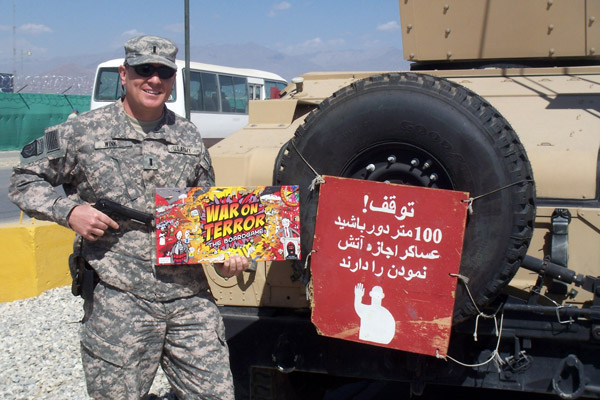 A crate of War on Terror was even requested by the Chaplain of the 1st Royal Welsh infantry to help keep the boys "relaxed and grounded" for their tour of Afghanistan. He added that it would also help with literacy and numeracy. No kidding. This lovely photo though is of Pete W, Task Force MED in Afghanistan. I think the sign translates as "We need 5 people to play war on terror with, it'll only take 100 minutes".

Related link: Original image and (hilarious) comments on Board Game Geek
A Dominatrix's Sex Toy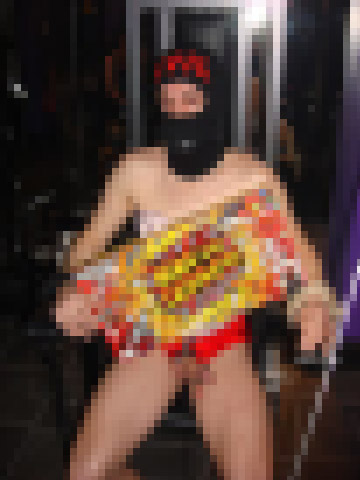 When we exhibited at Erotica we got a fair bit of stick from people claiming board games weren't remotely "sexy". Despite the obvious extra-curricular uses for the balaclava, people remained unconvinced. But then a professional dominatrix approached us, said she was a big fan of the game and that she used it in her sessions. Not just the balaclava, but the entire game - wired people up to electrodes and punished them for poor tactics. Pure, evil genius. She later forwarded a selection of photos, this being the only one we can comfortably show. Could easily be a Tory MP. But it's not. Obviously.
Invading the High Street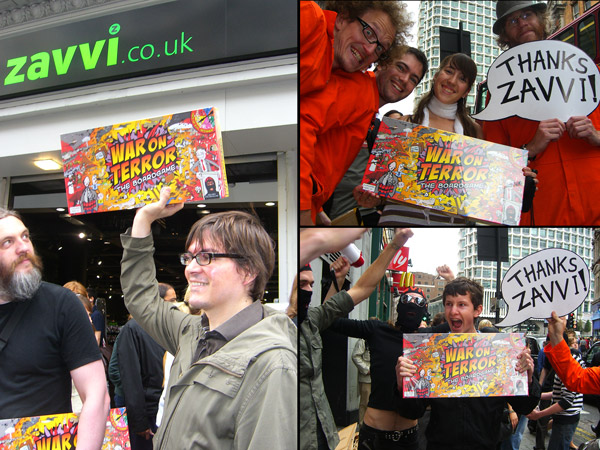 In between Virgin Megastore becoming Zavvi, our first big retail order of War on Terror was delivered. We had borrowed a considerable sum to get these games made and flown over to meet their Christmas demands. Alas, the new CEO of Zavvi wasn't a fan of our game and tried to pretend they'd never ordered any. A long legal wrangle ensued and just as we were approaching bankruptcy, they caved, paid for the games and let us keep half the stock too. We responded in the only way we knew how - we celebrated by giving away over 100 of those games to happy shoppers outside Zavvi's flagship store on Oxford Street. The cops were called but only ended up praising our organisation. And our pal Graham Linehan turned up for moral support, which was lovely. Especially after the stress of the fight and almost being pulled under, this was one of the most fun, most joy-filled afternoons we ever spent.

Related link: THANKS, ZAVVI!
An Expensive Paperweight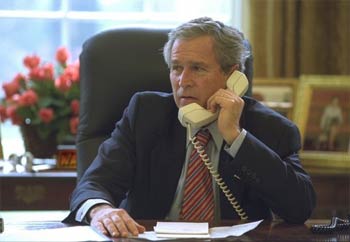 Late in 2008, our attention was brought to this thread on Board Game Geek that had unearthed a much earlier posting over on ronaldreagan.com. This original post appeared to show George W. Bush in his office with a corner of a War on Terror box just visible in the background. We wanted so hard for this to be true but it seems to just be a very good fake. Internet detectives unearthed the original image which shows no game in the background, however to my eye the original photo looks more doctored than this one. The funny thing is, we *did* actually send President Chimpface a game and we never heard back. Stranger things have happened ...

Related link: George W Bush a Fan of War on Terror?
A Diplomatic Peace Offering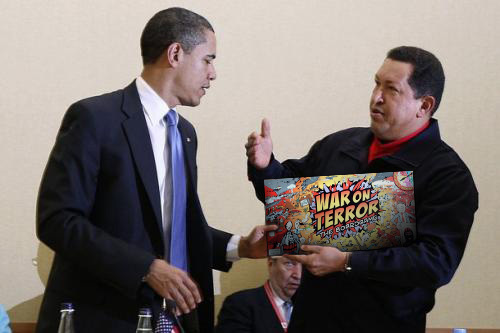 A much clearer fake this time, but funny enough to just make the grade and also get our list to a nice, round 15. This also cropped up on Board Game Geek (what is it with that site?). Before seeing this, we never harboured secret desires to play a game of War on Terror with Obama and Chavez round the same table. Now it's all we can think of.
And that's the end of our list. To cap it all, we're going to be on the telly next week - a rerun of the excellent BBC Games Britannia series, wherein presenter and historian, Benjamin Woolley says we're the future of British board games. If that's the case, I feel sorry for British board games. But it does make a pleasing conclusion to this pictorial potted history of War on Terror.
To celebrate these 5 Glorious Years (and to off-load the last remaining stock) we're knocking a 1/3 off the original edition of the game. That's a saving of ten whole English pounds. And just look at its pedigree! Look at it! You could own that piece of history right now. Then make it into a dress and wear it at the next awards ceremony you attend. Go, grab a bargain.
Posted by TerrorBull Games on 14 December 2011 - 9 comments
Comments so far:
Beautiful! Amazing! Makes me proud!Giles from London - 16 December 2011
EPIC post guys! I was bored at work and made a montage. No offence but it has more impact without all the blather. Don't get me wrong, it's great blather. But the photos are greater. Here you go http://i.imgur.com/3ZeNe.jpgH from Steps - 16 December 2011
What a great 'tour of history'! I've been following you're work since 2008 or so, so most of these moments of glory I was already familiar with. However, something caught my eye: in the picture of the 'Berlin Academy of Arts: Embedded Art' exhibition, it seems there is one item that is not in the actual game, and though I can't see it clearly, it looks like a doll (a barbie, perhaps) with an 'evil' cocktaildress. If this is true, then 1): it's awesome!, and 2): why can't we buy it (the dress anyway)?David Holt from Amsterdam - 16 December 2011
H from Steps! THANK YOU - that is a wonderful, wonderful poster. Amazing, you're right, the pictures are better than blather. Out of interest, is there an automated way of fitting images into a grid like this? I've always struggled ...TerrorBull Games - 19 December 2011
David - very sharp of you, that's actually a "Suicide Bomber Barbie" (http://www.theculture.net/barbie/). It is awesome, but not our doing. We were honoured to share a display case with her.TerrorBull Games - 19 December 2011
So glad that My little games with 'terroist slave' made it onto this list. Hope to work on the Dungeon game with you guys soon.Mistress Absolute from The Dungeon - 2 January 2012
Mistress A, your photo still makes me chuckle every time I look at it. Thanks for broadening our horizons. And the Dungeon game! ... now that'll be a fun game to prototype.TerrorBull Games - 3 January 2012
Well let Me know when you have time to work on that - I think it could be a whole lot of 'fun'. As you can see from My use of WoT I have a creative imagination......Mistress Absolute from torture Chamber 2 - 6 January 2012
Excellent game, we argued over it just this evening from about 5 to 12 o'clock Give ex-president chimpface and everyone who's really keen on iraqi oil my regards.Archie from Zurich Switzerland - 15 October 2012